Once, for fun's sake, I threw my friend Anya an ad about volunteering on a moose farm. "Look, how cool the moose are, let's go?" - I asked, not even hoping for an answer. I say this over about every other cool thing, and Anya has long been accustomed to my meaningless "Oh, what a beautiful goat, let's get it, and also open a bar?!" This time, however, Anya answered: "It's a good thing, why not. When?" We had no time. Well, at the end of the summer, neverwhen ...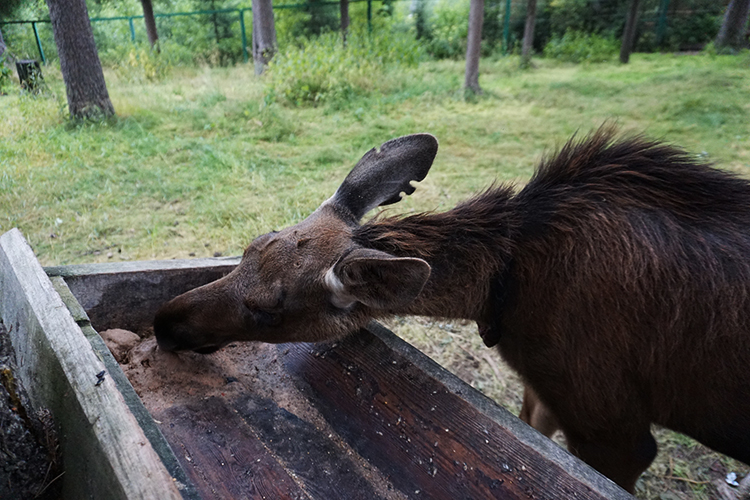 And then ... then I found myself buying a train ticket to Syktyvkar. All my acquaintances either kept silent or looked at me with expressive perplexity. Strange as it may seem, we shocked the inhabitants of Syktyvkar, Ukhta, and Troitsk, half of whom did not know there was a moose farm in Yaksh, and the second half considered a trip to such backwoods from Rostov and Taganrog sheer madness.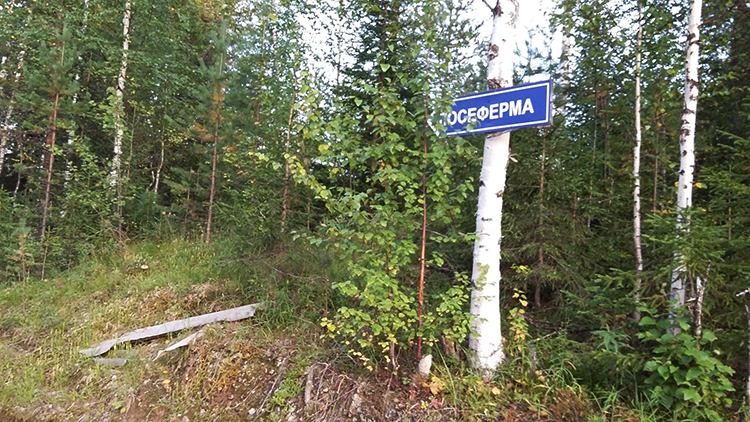 After a while, we come to Yaksha. It's night-time. Dogs are barking. Darkness. I have two backpacks and a bag, Anya has one, all are crooked and tired (it seems, even the backpacks are). After five minutes of waiting, we are met and led to a guest house with the words "Well, it's close, twenty minutes, and we'll get to it". I am no longer surprised when, on the way, I see a river not disfigured by any kind of bridge. I am led ahead solely by the hope of seeing a moose. A doubt begins to creep gradually into my soul, that parents, friends and everyone else around were right and it was not worth going here. We come to the house, but where are the moose?! It turns out that, firstly, the moose are asleep, they are tired, and, secondly, the guest house is located on the other side of the river! A draught of happiness is caused by meeting heroic volunteer Veronica (she would leave in a few days to the cordon) and finally having supper in the guest house.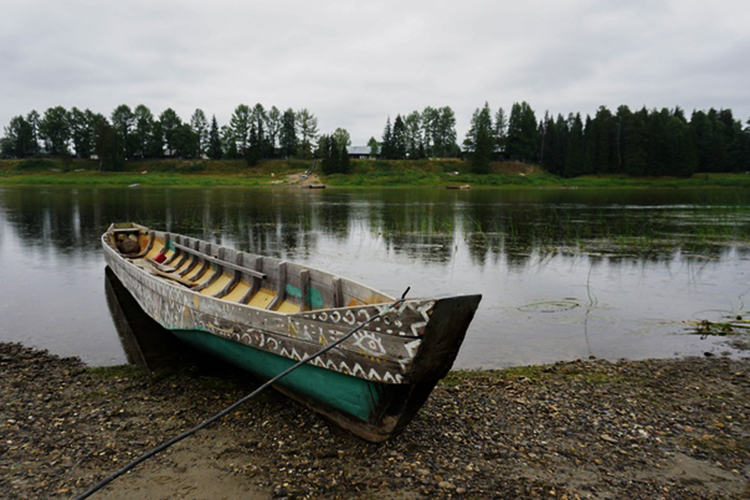 This is how the ferry across Pechora looks like. We traveled by such boats to the moose farm every morning.
In a word, when the next morning we finally got to the moose farm, we could not believe in this miracle. Acquainted with the head of the moose farm, Svetlana Vladimirovna, a wonderful woman with three perfectly happy dogs (according to her words, half of the visitors are so happy with the dogs that they forget about the moose and ask to give them a badger-dog). With an experienced eye having defined an obsession with moose in us, Svetlana immediately led us to meet our hoofed wards.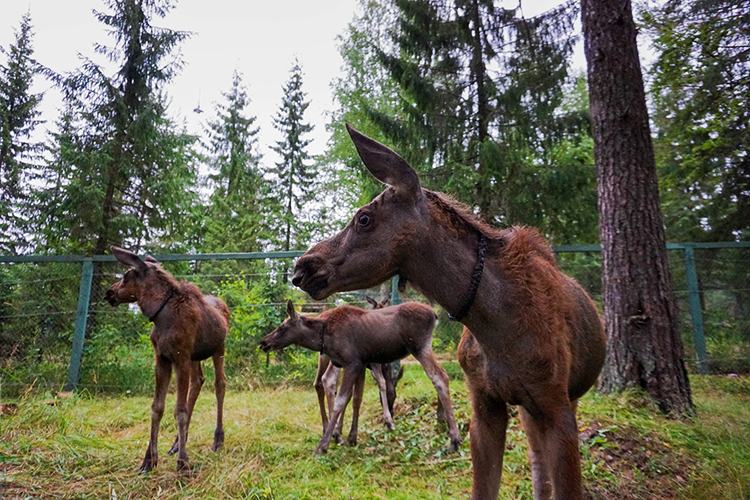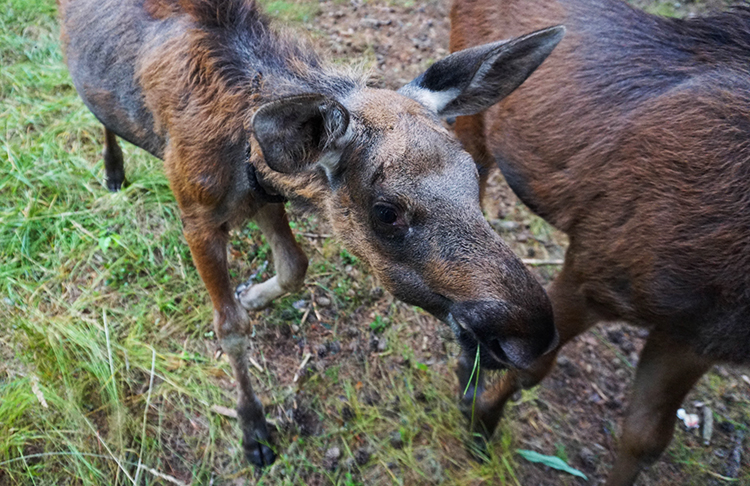 For some reason, I thought that the moose paddocks would be about the size of a stall in a stable. No way! A moose is a free animal and does not tolerate small spaces well, so one side of the fence was not visible from the other. Only fir trees. And then the doors to the pen are opened, the crunches are put into our hands, and They run out of these fir trees. Eight three-month, hunchbacked and, I must say, too high for the word "moose calf" creatures. Half are girls, half are boys. They remind an odd mixture of a sea spider and a bat: huge long legs, huge ears and something insignificant in the middle - apparently designed to represent a trunk. And this horde poke at us, trying to scratch their heads and tear out the delicacies! However, the crunches end quickly, and with it - the interest in us. We are allowed to visit the moose at any time of the day, and at night the pens are locked so that the calves are not bothered (by people like us).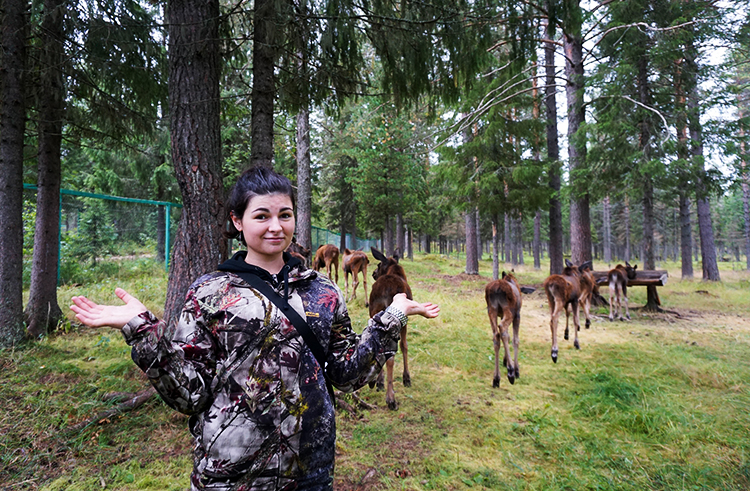 When I wanted to take pictures with the moose calves, but did not stock up on crunches.
We were not allowed to join the adult moose cows at all - after all, the animal was not completely domesticated, it might react unpredictably to strangers. So we only spent time with the smaller ones. Of course, they clearly lacked the grace and beauty of the elder moose, but the moose calves ate very funny. Green branches tied to the tree did not cause difficulties, but they could not normally reach the grass stacked on the ground because of disproportionately long legs. Therefore, the moose calves, intended to chew the bay willow, came to eat, aimed ... and thumped hard on the knees. And when they completely lied down, then both pairs of legs were deftly folded, which gave an impression of a folding stool from IKEA.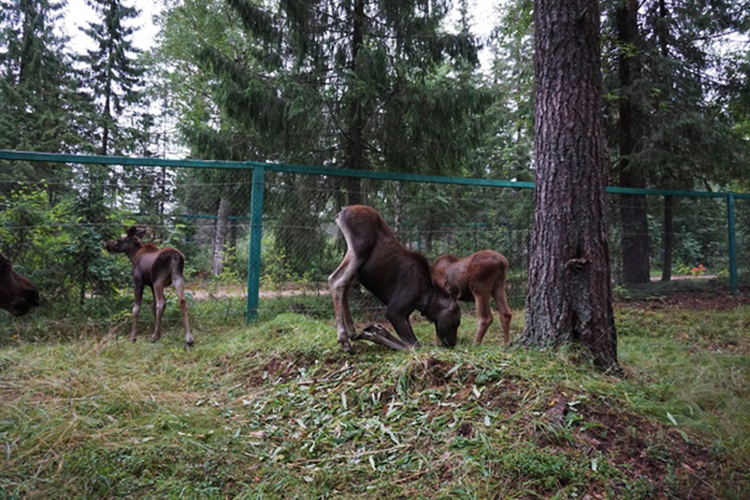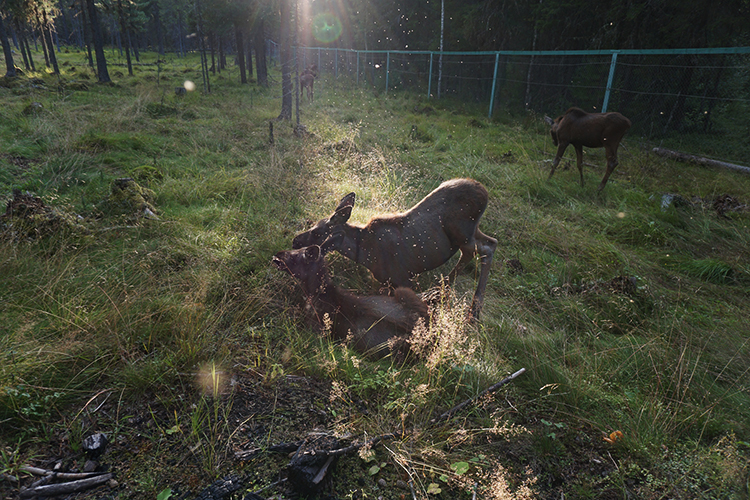 By the way, in our presence, the moose calves were much more ready to eat green forage than our offerings in the form of bread and crunches. Not that we very upset (more left for us), but it was slightly offensive. You come to the moose with all your heart, and it turns to you with its tail and chews the leaves! Some still indignantly mooed at this - go away, they said, do not bother our meal.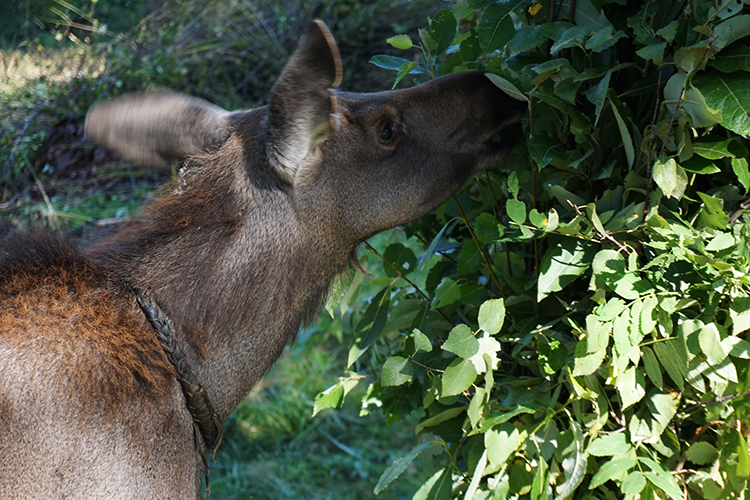 Only baby Tom - all curly and red - was always ready to please us with communication. He happily grunted the crunches, stroked and stoically tolerated the hugs of two enthusiastic fans. Even allowed a selfie with himself. So now I can officially say: "I have my favorite moose". Although, show me anyone who does not adore Tom?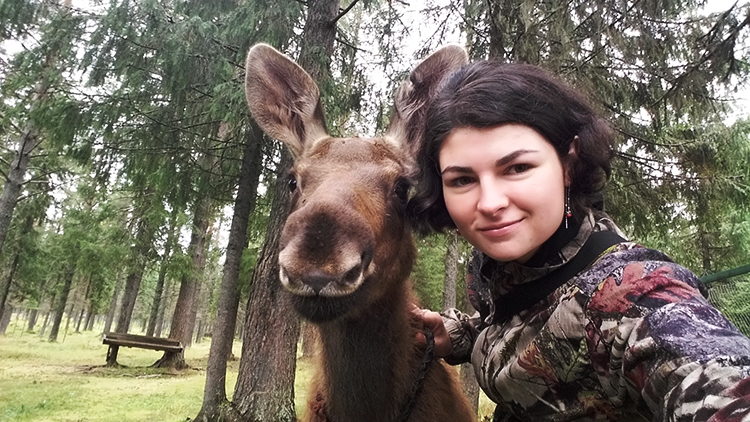 The work of the volunteers was to harvest food for the moose and help with the local museum. Those who arrived earlier had a chance to bottle feed the moose calves, but, by our arrival, these taiga spawns had already matured, settled down and the volunteers were not necessary anymore. To collect the food for the moose, we went to a dump rapidly overgrown with bay willow. We tore the huge fleshy stems by hand and folded them on sheets, and then we tied these sheets, carried them to a tractor and drove them to the moose. Initially, our duties included only collecting bay willow, and the rest of the time, while Grisha and Sasha were getting branches for the moose, we, like the softer sex, could seek through the woods for blueberries. The harvesting consisted of cutting down small birches and bay willows along the road and cutting off branches and apices. But you do barely know the softer sex if you think that after all the challenges we wanted to look for blueberries more than to swing an axe!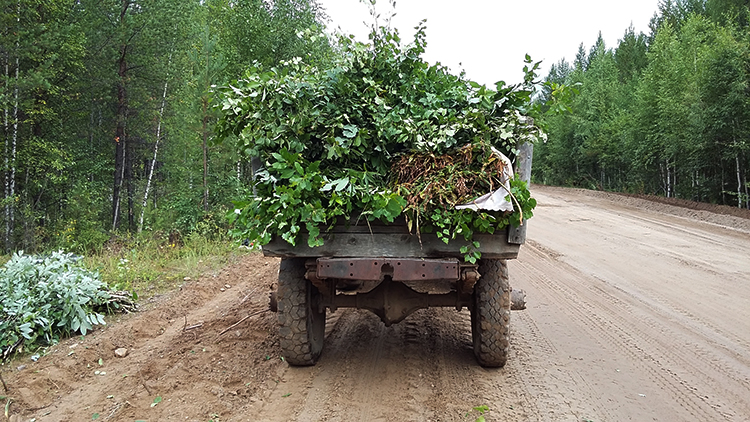 A truck loaded with food.
Veronica was the first to give up, having timidly asked if she could join. It turned out that she could. After that Anya and I no longer hesitated, and, starting from the second day, we were given tools immediately, without any questions. And there was no time to stand still - like, "There is a tree over there, what are you waiting for"? And we were happy to swing axes. Because, firstly, you feel a little bit like a book character, and secondly, a biologist can always use this skill.
In my case - I'm a doctor - I'd rather not argue about the need to use an axe - but it's still interesting! And then we were also taught to cut firewood. Of course, at our own request - so we had to simply put it together, but how to resist the attraction of a wood splitter?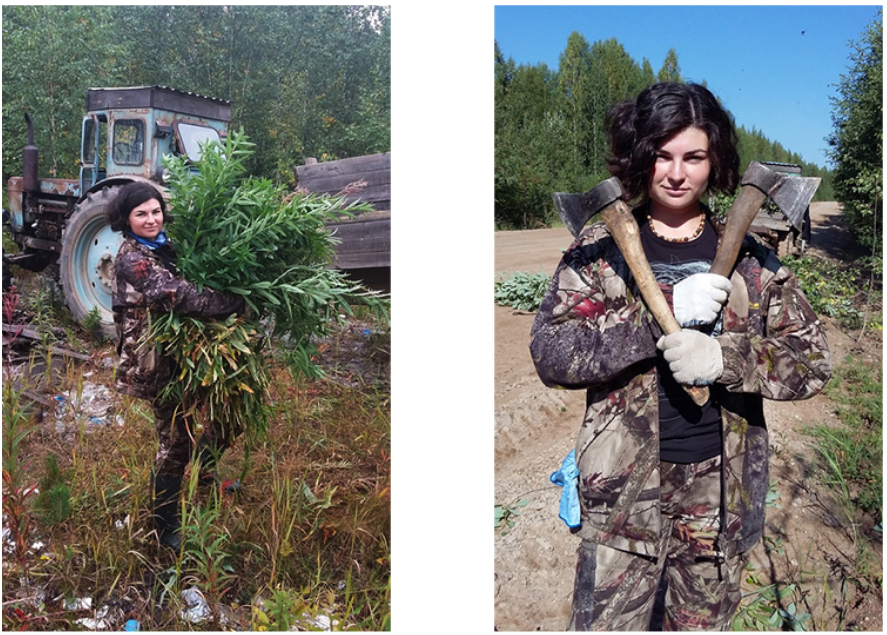 With weapons on the battlefield. The carcasses of the fallen birches are almost hidden by my broad back.
After the "first shift" and lunch we were sometimes taken to work in a museum. Though we did not manage to get inside (I hope that the moose farm liked us so much that they wanted to lure us back). But we had quite a work in the courtyard. And all the tasks were dedicated to the stones because there would be a mountain stream in the courtyard. In the beginning, we were asked to collect these stones on the river bank and load them into a tractor. Then, to move it from one part of the stream to the other. The next day the task was even more creative - to wipe the stones and throw them back. We would not be surprised if the next step was the coloring of the stones (into the color of the stone) and varnishing, and also giving them the most stone form, but just at that time our volunteering came to an end. A little less exciting lesson than harvesting bay willow (and there are even no raspberries among the stones!), but where else would I polish the stones?!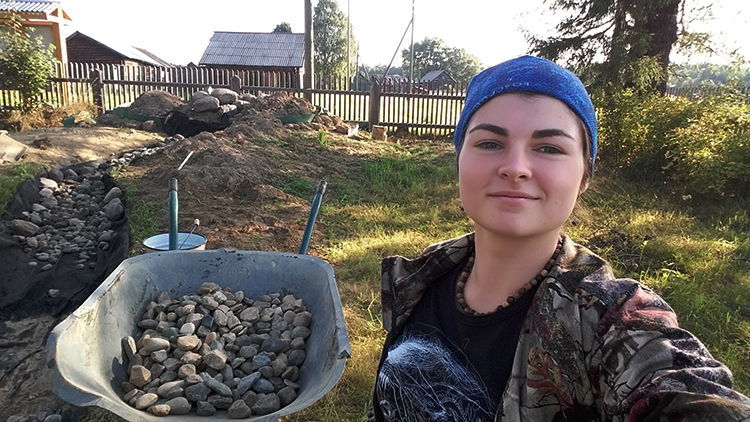 Finished material and the proud mountain stream itself in the background
However, it's not worth complaining. In gratitude for the stonework, we were generously fed a delicious pie and a smoked pike (indeed, I ate the pike joyfully alone, because Anya was unreasonably less than enthusiastic about the fish). In general, we did not have any problems with food, although we were prepared if not to starve, then to stoically eat buckwheat. There is a store in Yaksha (even three of them!), and you can pay by card. Svetlana Vladimirovna and the workers of the moose farm were trying to treat us with something delicious: potatoes, fish, bread, and my pockets are still stuffed with sweets.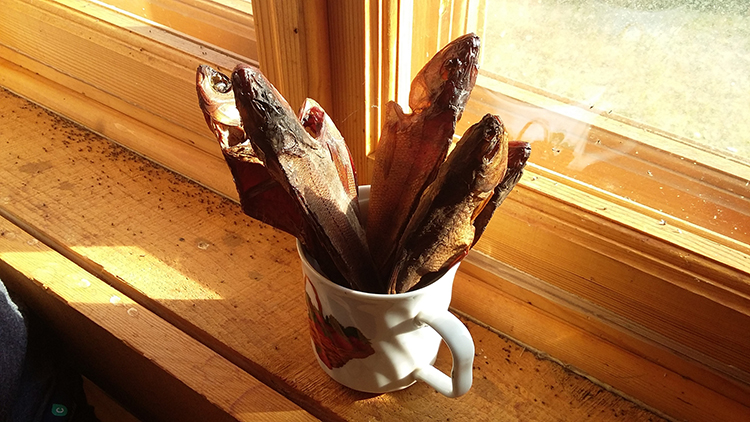 That's the bouquet I like!
Once we were fed plenty of moose milk. After having seen a one-and-a-half-liter jar, I thought that we were only allowed to try a sip. No, they gave us the whole jar! Milk tasted salty, strange a little and fatty, like cream. But how nutritious and finger-licking delicious it was! I would drink it every day. That's the reason why moose calves grow so fast!
We were given moose milk only once (but plenty of it), but on all other days we bought the cow's one. It costs 60 roubles per liter (as in any store), but is much more delicious. Sometimes we even allowed ourselves to enjoy sour cream with cottage cheese. You add berries to it - and a light dinner is ready. And you can easily pick berries in the forest - one hour with a jar in your hands and you can already swim in blueberries and throw it into the sea. In such a short time we managed to pick berries for cereal, tea, snack and "well, a little bit just in case". At the same time, it was possible to find enough mushrooms for dinner. Russulas – for the moose, and slippery jacks and birch boletes – for us. The funniest thing is that I do not understand mushrooms at all, so Anya started mushroom hunting. Needless to say, I reacted to the idea incredulously. Every time I asked cautiously: "Are you sure we can eat it? Or maybe I'd rather not"? Half a day Anya was hovering over the harmless, in my opinion, leaves, glades, and roots, rushing at the prey with lightning speed until she got the pack full. Having satisfiedly sighed and triumphantly waved a sack with mushroom carcasses (fortunately, not on my head), this amazing girl thoughtfully stated: "You know, actually, I do not eat mushrooms ...".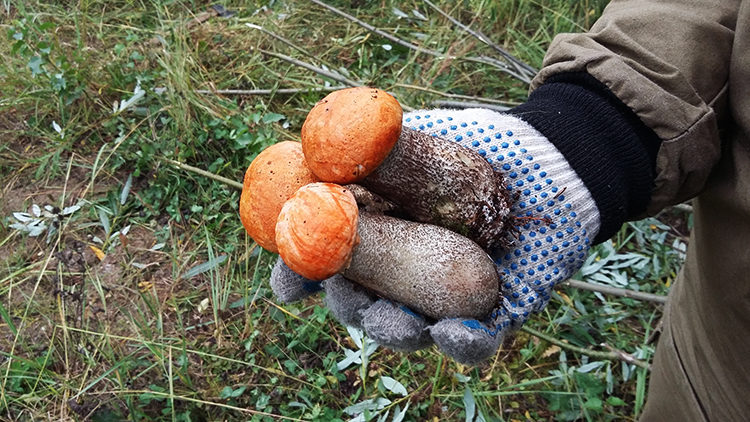 The living conditions were incredibly satisfying. In the guest house, the three of us were assigned a separate room; in the bathroom, there was a working washing machine and, by the end even the shower was fixed. A few days later we were moved to the other shore, to the house on the moose farm. Imagine, the whole house with a wood stove for two (kindling it was another story), a hot shower, an oven and a microwave. And the moose round the corner. And all these was for a few hours of harvesting the bay willow and swinging an axe!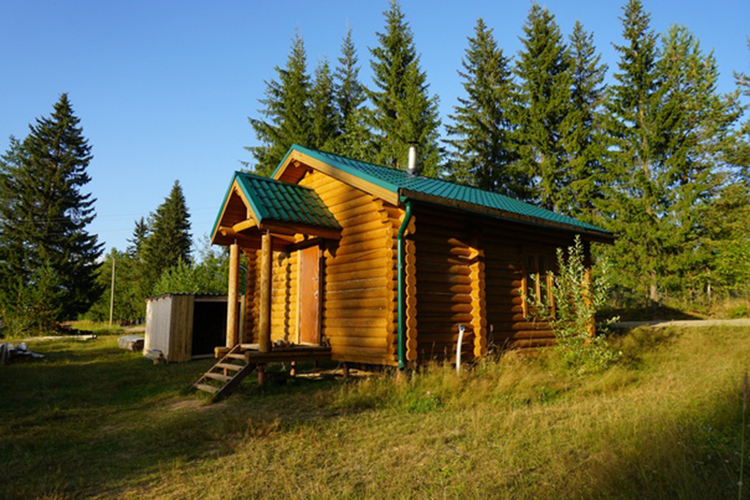 In addition to moose, there is also a beautiful forest nearby, full of berries and mushrooms, and the Pechora River. It is quite shallow - while sailing a boat you see the river bed almost everywhere. On sunny summer days it is good to swim - I tried myself! And late at night - just sit on the bank and look at the water. On and off, it was cut through with the narrow noses of boats with the bright lanterns. As I understand, they shine into the water to make it easier to catch fish. Though, for the first time we were frightened and surprised. You are sitting on a deserted bank - and then the bright light strikes your eyes and the engine rumbles!
There is a swamp with very picturesque bogeys very close to the moose farm. I'm glad that I first saw them not in the darkness, but in the daylight. Because horror movies can't hold a candle to the moment when you see THIS in a foggy haze. And just a few minutes away from the place where you live! (And yet, when you leave the house at night, almost always something stomps in the bushes ...).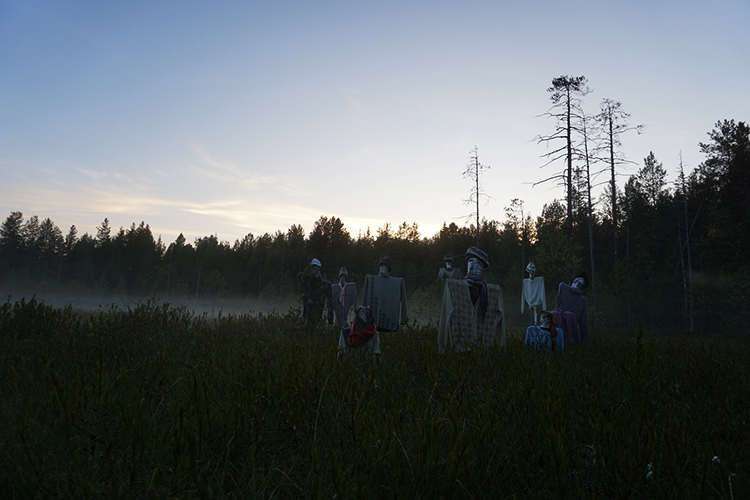 Little children, for nothing in the world, do not go to Africa for a walk in a swamp ...
The moose farm has been residing in such a picturesque place since 1949. It was founded in order to domesticate the moose. It is unpretentious and relatively easy to tame - though, you need to grow moose for that from its very childhood. The initial base of the herd was the captured wild moose, and it was ideal to catch the moose at the age of 1-3 days, while they are not afraid of man and do not run very well. The moose were often caught with the help of a specially trained dog or on the water and transported without a leash (to avoid twitching) by airplane or by water (the moose barely tolerate). The moose calves were bottle fed with cow's milk, the norms were developed for each day, the moose were raised, and the breeding began. At that time, the work was actively carried out to tame the moose to use as a transport. They were rode and harnessed to carts. Mail, some equipment for geological work and much more were delivered by moose.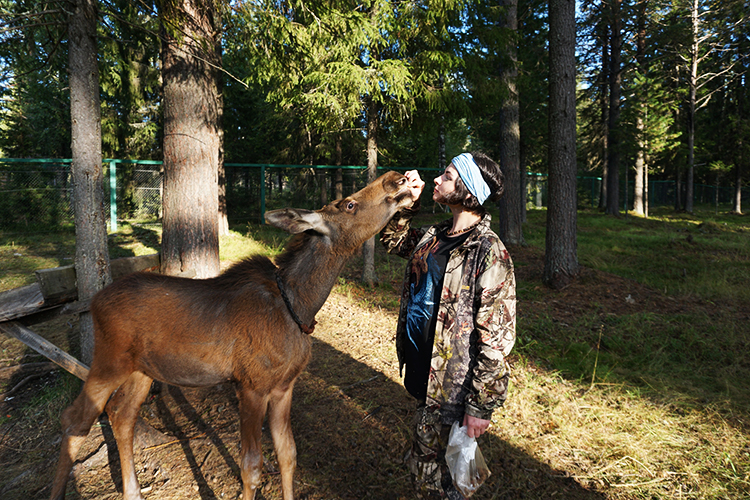 There were even huge plans to develop breeds of meat and dairy moose. But now no one rides these animals anymore - working with a moose for several years is much more difficult than buying a good car. The moose meat production has almost gone to the end, and the moose milk is used mostly to bottle feed the calves and let those who are interested to try. So now the moose farm is engaged mostly into ecological education and tourism. However, personally it seems to me that tourists would be much more interested to ride a well-trained moose. Even at a walking pace, even on the bit. I would not hesitate to give an extra thousand or even two for this (just an excursion to the moose stands, by the way, costs only two or three hundred roubles). But only imagine - riding a moose! .. By the way, more photos of moose, reviews, the history of the moose farm, information about excursions and a new calving (only in May!) can be found in the official group of the moose farm.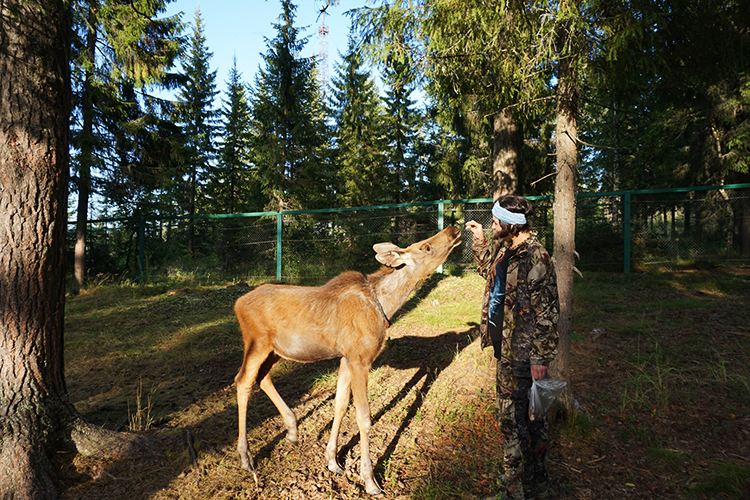 In total, we lived on the moose farm for a week, and every day was full of new impressions. Riding the tractor, raspberry and bilberry fields, bogeys from horror movies, swimming in Pechora, moose milk, mushrooms on the bank of Pechora at 10 p.m., eating blueberries by the fireplace, axes and firewood ... Every day we woke up at 6:30 a.m. six and went to bed at 10 or 11 p.m., every day there was a sea of fresh air and the feeling that you've stayed there for, at least, a month.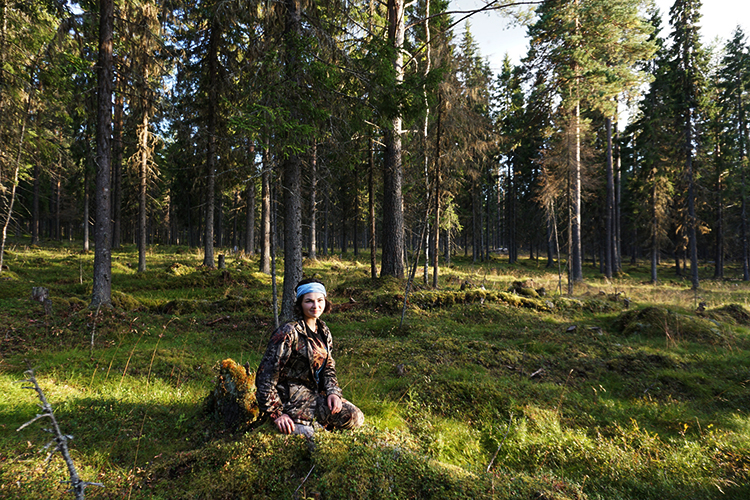 And the most amazing was kind and sympathetic people who were ready to take you to the other bank by boat on a Sunday morning, and at 6:30 p.m. - by car to the village, treat you with some delicious food, tell stories and just support. Answering the question "Why did we go there?!", I can rightfully say - to spend one of the best weeks of that summer. So, if you want to go somewhere with all your heart, even if everyone looks at you puzzled and asks why you need it - think about it. Maybe it's still worth it.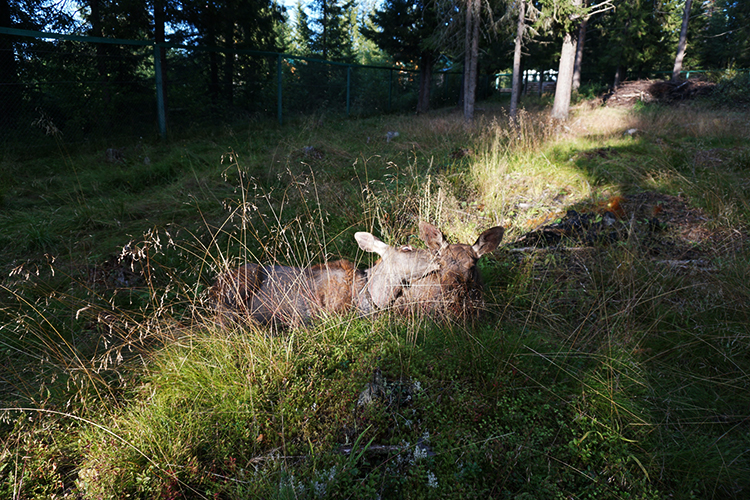 Author of the text - Vera Yemelyanenko
Edited by - Kseniya Gushchina
Translated by - Drejk Barkov
Date of event - 21-30.08.18
Date of publication - 7.09.18
Only registered users can write comments
Comments (0)