Hi everyone, my name is Masha and I've just come back from South America where I've spent a year less six days. During that time, visas of Uruguay, Paraguay, Argentina, Bolivia, Peru, Chile, Brazil and some other stamps for visiting Machu-Picchu and Torres del Paine national park were added to my passport. Besides, I experienced five earthquakes within four months.
Today I'm going to tell you about my journey and share some tips for you to make such a trip by yourself.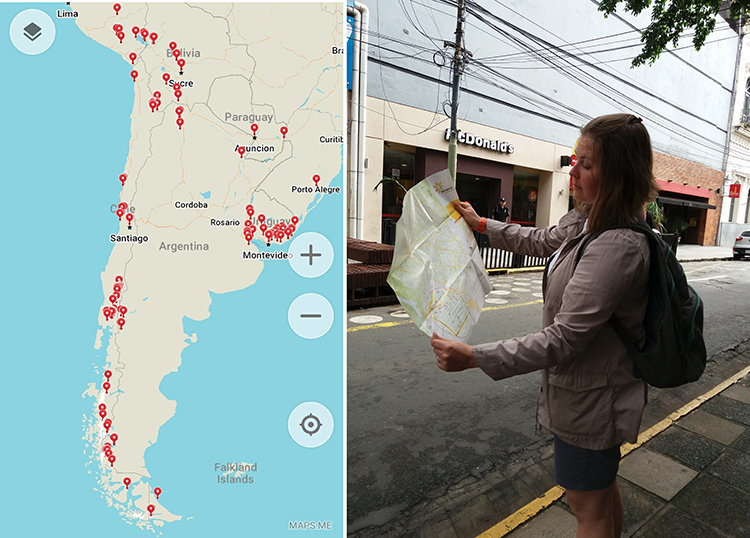 My adventure started with one simple question: "Why not?" Thanks to this question I lived a small life on the other hemisphere of Earth where the seasons are mixed. I had to get used to seeing the sun in the North at midday, September there means spring and summer holidays start in December.
For me, South America was always something very distant, mysterious, ephemeral and so it allured me from my very young age. I knew that you can make your every wish come true, but I needed some magic kick in the butt to take guts to start my journey. And somewhere on Goodsurfing - which is a platform for searching volunteer programs - my magic kick was found. When in January a volunteering project in Chile appeared there, I understood it was my chance. As soon as my application was accepted, later that same evening, out of sheer joy, I bought a one-way ticket and understood: it was real, I was going to South America.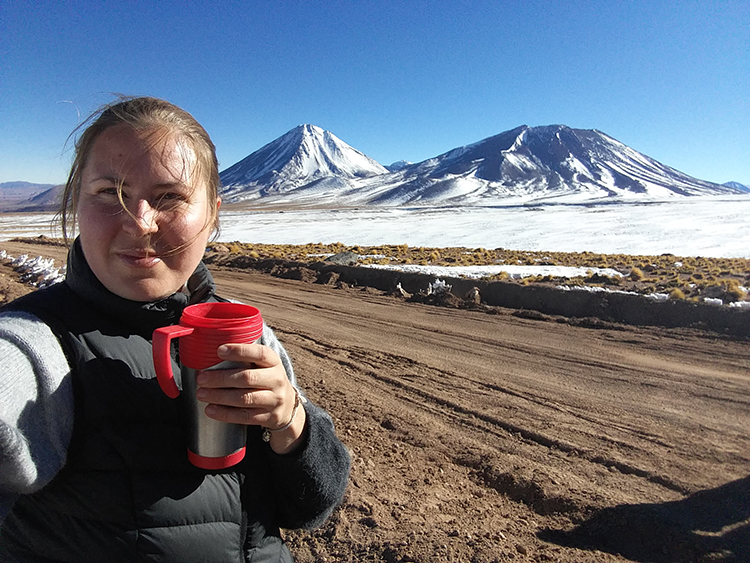 Next morning it became clear to me that such decisions are better to take in advance. For example, I found out that for this journey I needed the police clearance that would take 30 days to obtain and to get a special visa it would take at least 2 weeks. I was lucky to be in time for all that, but I recommend you to solve these questions in advance.
I came to South America a few months before the start of my volunteer program in order to visit some other countries other than Chile once I had such a great opportunity to be on the other side of the planet. I felt like a beta-version of Phileas Fogg when I was holding my passport while standing at the airport. I had only 90 days to get from Uruguay to Chile (this is the period of time from the moment you get your temporary resident visa in Moscow to the moment you cross the border with Chile).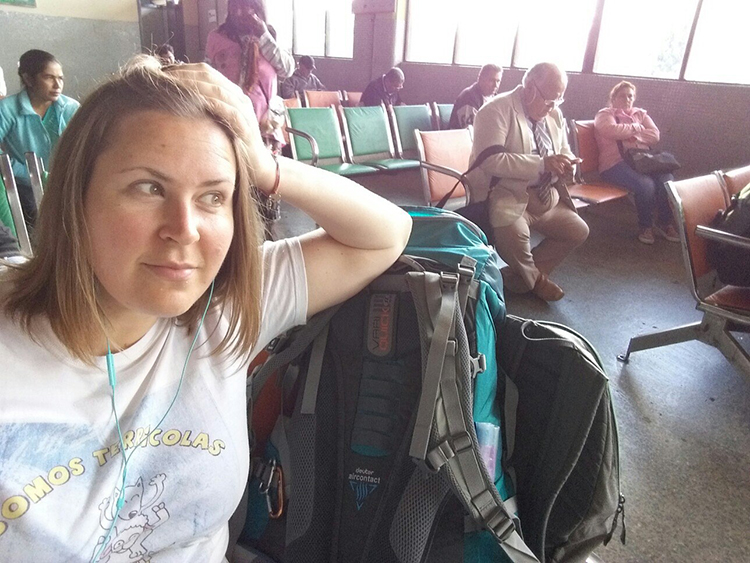 I had lots of wishes and desires, but I didn't have a well-organized logistics, and that was even better for me as I understood later. You can visit all South American countries without a visa if you travel for up to 30 or 90 days. You'll just get some stamps in your passport when you cross the border. I recommend you to come to Uruguay first regardless of your final spot. It is the cheapest direct flight from Europe to South America.
I don't really like excursions and bus tours, but sometimes you can feel helpless without a guide. Standard sightseeing will never replace meeting locals and other travelers. With great pleasure, they share their impressions about some places you shall never miss. I created my own map thanks to talking with the locals and shared dinners in hostels.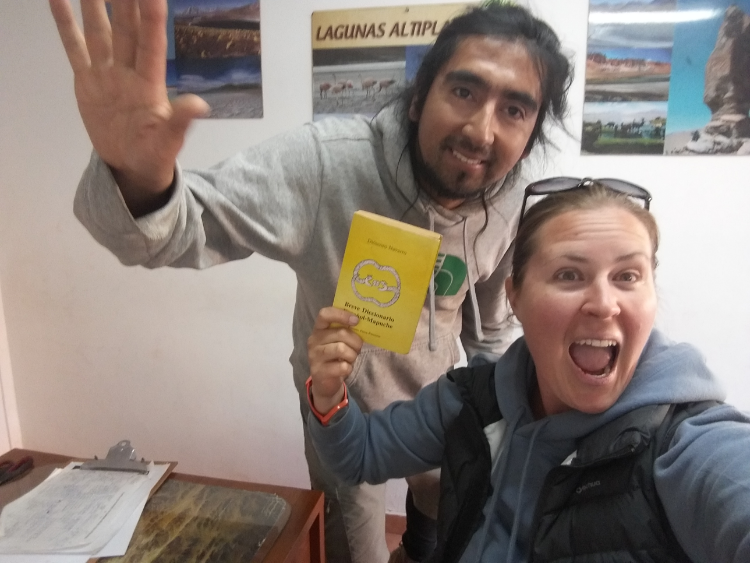 Dinkum Mapuche Indian
That is how exactly 2 south locations of Patagonia came into my plans – Torres del Paine national park in Chile and Ushuaia national park in Argentina. That's the way you can cross Magellanic Strait by ferry staring at penguins and orcas and catch some views of the ocean standing at the top of Guanaco mountain located on one of the islands of Tierra del Fuego. Here you can see how some icebergs of Grey Glacier crumble into pieces, how some mantles of snow melt waterfallishly and crunch creepy, cracking deep down at the feet of towns of Torres del Paine.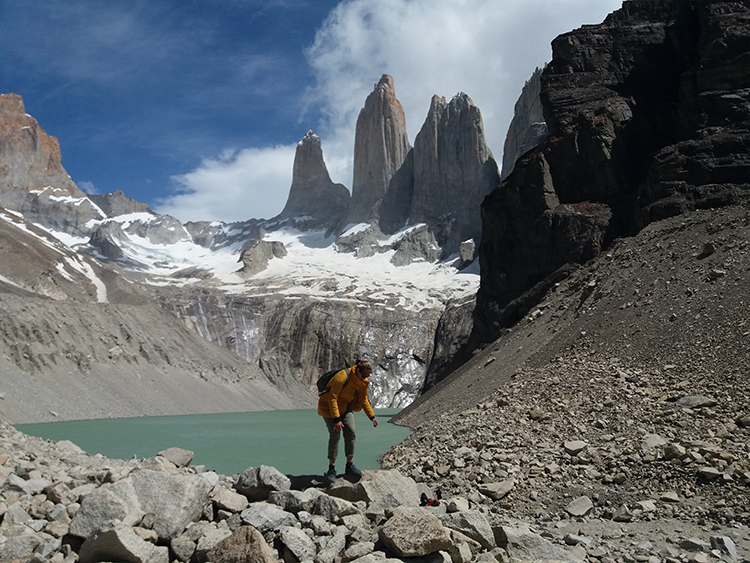 Torre Patagonia, Chiles del Paine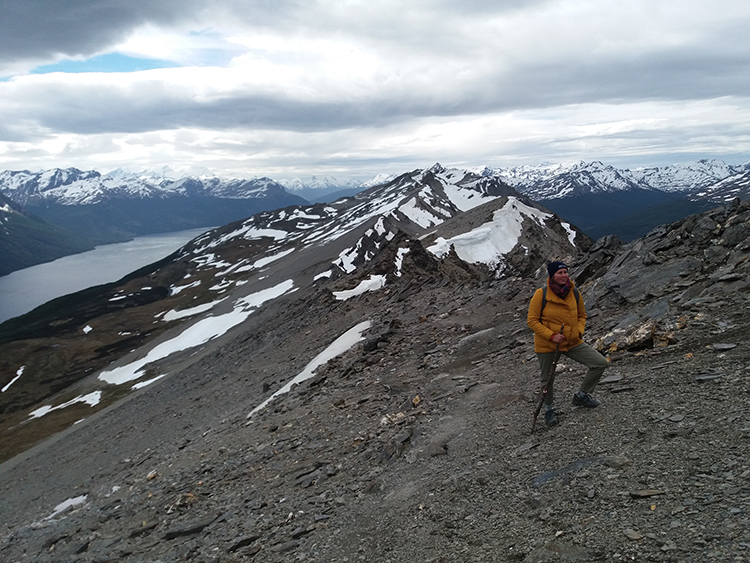 Serro Guanaco on the Tierra del Fuego islands of Ushuaia, Argentina
I went there by air. When reaching Punta Arenas by plane from Santiago de Chile, below the wing you'll see lively rivers above the Andes – Campo de Hielo Patagonico Sur. Take a seat near the right illuminator to see Campo and ocean. To see the Andes you should take a left seat.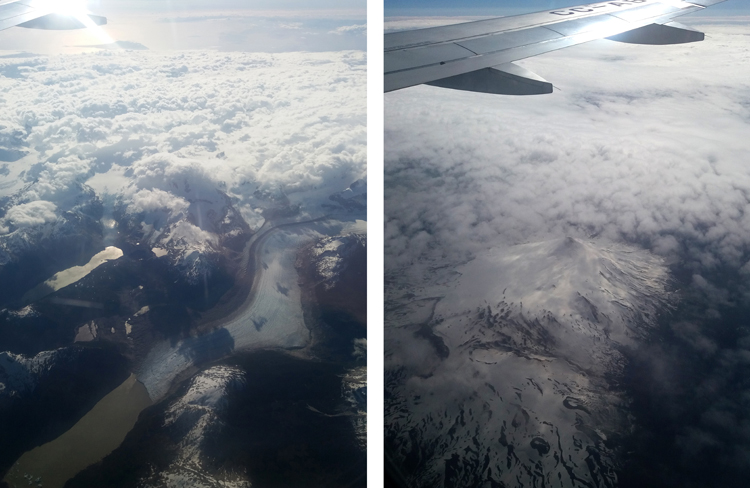 It was the last, 89th day when I crossed the border with Chile. I went by bus to Peru.
Attention: when you get your visa in Russia there will be two more documents given to you. You should keep an eye on them because the visa is not valid without them. I hid it very properly but forgot where (isn't it the best place to hide something?). I was reminded about these documents at the customs. High-speed 15kg backpack digging-up now is my favorite kind of sport.
Customs check is really rigid especially in relation to food import. They take away almost everything – even packed sausages and cheese, vegetables, and fruit. I have never faced such a customs check. To compare – on the way from Argentina to Paraguay our bus didn't even stop. And I had to yell "WAIT!" in all languages I know and run back 500 meters to the customs station to get my passport stamped.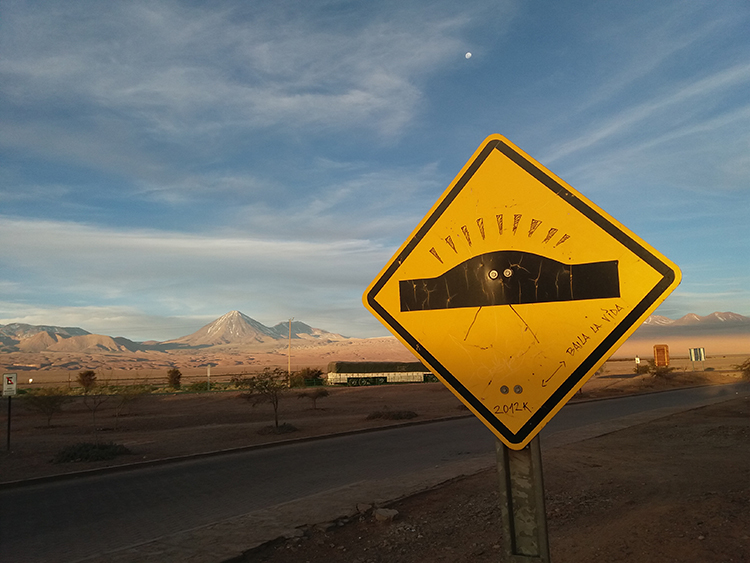 Besides being lucky and assertive, I had some extremely helpful apps on my phone. It is better for you to download it in advance.
Maps.me – a map that works offline, it can cache and load your map-points (your home, nearby shops, some mountains you saw from the plane's illuminator, some waterfalls). In essence, this map is constantly updated by users. You can map your own ways here and get information about the distance as well.
Rome to Rio – this app is a bit odd, but it's was very helpful at first. It is full of information about almost all possible ways to get from one city to another and there you can compare ticket prices as well. This app has one drawback – if there are no some tickets on the Internet, there are no those tickets on this app. For example, loads of buses in Paraguay ride even to Chile, but you cannot find it anywhere, so you can buy a ticket only by cash in the office. Btw: twice a week there is a non-stop bus from Asuncion (Paraguay) to San-Pedro de Atacama (Chile). The ride takes about 48 hours.
CouchSurfing – it is my top app for searching for a host, friends, information etc.
Skyscanner – it is an app for flight searching. I had a lot of flights on the continent and I paid about 50$.
Booking.com – it is clear enough I think, but you can use one life-hack: usually I booked one night in a hostel and stayed for more then. If you book staying without using Booking, you'll pay less. And there were always places.
Credit cards and payments.
You can easily pay by Visa or MasterCard in most cities of SA, so for me, it was great cause my cashback was not bad. But cards are useless if we talk about towns, mountains and other remote districts. Don't be surprised if you are able to pay by card only if the purchase is over 100 pesos.
Chile payment system has its own debit card called red compra. Volunteers were given it for free. It is very useful. For instance, if you want to buy a ticket for a bus of the biggest Chilean passenger-carrying transport operator Turbus on the official site, so you can use exceptionally this card. Neither Visa nor MasterCard worked there (including foreign banks).
Earthquakes
All territory of Chile is a part of the Pacific ocean seismic belt of Earth. It's not surprising that I experienced 5 earthquakes within half a year. The first earthquake of magnitude 6.3 happened exactly on the day when local Indians had a celebration in honor of Pacha Mama (motherland). During this holiday Indians thank Pacha Mama with sacraments such as alcohol, coca leaves, cigarettes, and sweets, putting all this on some small handmade shrine.
Obviously, this holiday was celebrated successfully and Pacha Mama burst into dance at 3 am. So did I. Other earthquake shocks were about 3-4sc. If an earthquake doesn't destroy any houses, locals call it tremor, not an earthquake. Besides, they determine a magnitude precisely to a tenth just by their feelings. After staying for 3 months in the central region I tried to guess the level of shocks but it was very rough. Here you can see the shocks and magnitude in real time: http://www.sismologia.cl/.
Highland desert of Atacama is another object I was amazed of. The place where all the telescopes are and the Sun shines almost all year round. The best place to see the milky way for real. Here you can see some lagoons which have salt concentrating on its level a bit higher than it is in the Dead Sea. You can bath in there as well. There are flamingos, they eat krill – a small pink shrimp of such a small size that you can fit about 10 of them on your nail.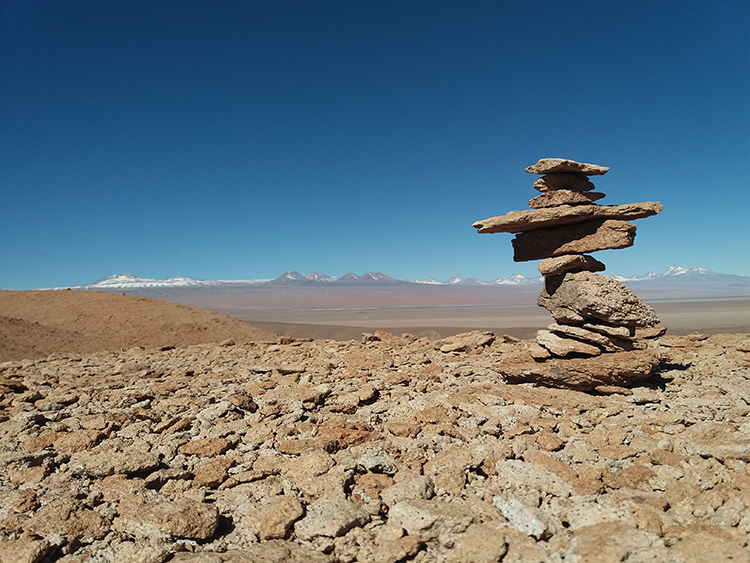 A soft river flows there giving life to San Pedro de Atacama oasis. You can dive into emptiness and absolute silence when standing on the 50 meters comb of sand drift in Vale de Luna watching a row of volcanoes in front of you. In the evening, after cloudless dawn, you can see the moon rising and feel the Earth rotating.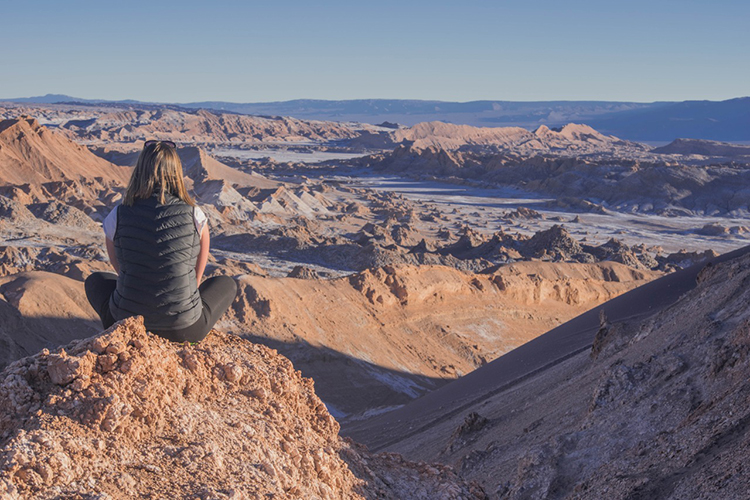 One more point of my inspiration program is Pacific ocean. The bluest, the saltiest, the strongest and the coldest of all I've ever seen. Antarctic current going up Chile coastwise and the temperature of the water doesn't go above 15 degrees in most regions.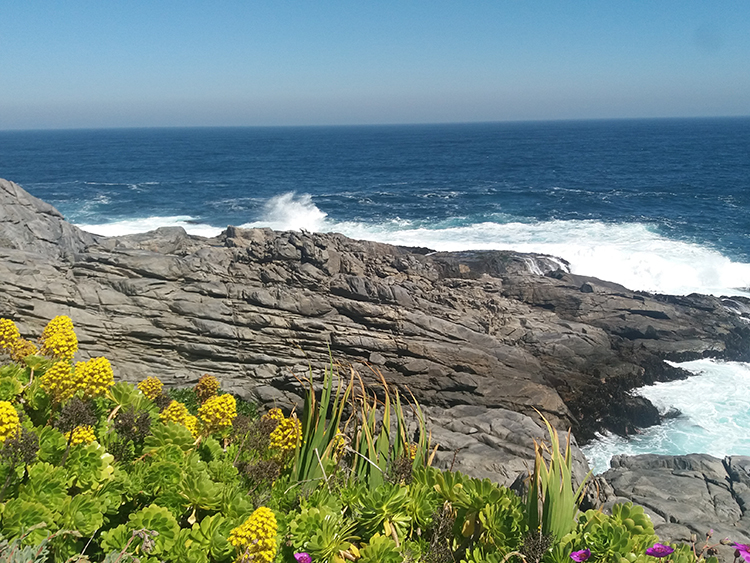 Dawns here are not like they are in deserts with its long scarlet reflexion, orange flashes, and green rays. And waves… long ocean waves with surfers riding it in any weather.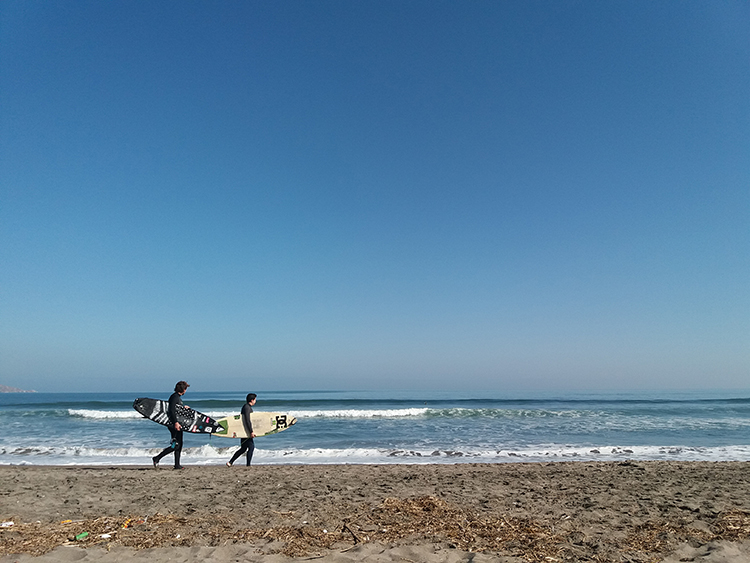 I cannot name the best places to surf, but I met some cool surfers in Iquique and La Serena. Even if surfing is not for you, here you can find something to be obsessed with – shining golden black sand, pelicans and sea wolves – Lobos del Mar as locals call them. All of that leaves an imprint on your heart, it makes you change your vision regarding the Earth.
If the main sight of America is the Andes, then the main sight of Andes is a volcano. Licancabur, Ojos del Salado, Osorno, Villarrica. You can climb almost all of them. Licancabur and Serro Toco – my favorite ones – are easy to see from San Pedro de Atacama.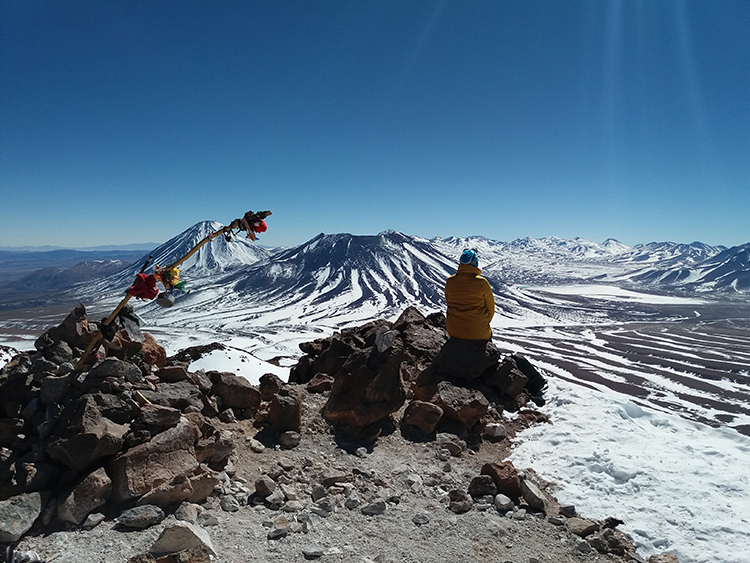 But Villarrica (close to Pucon) is the most hospitable as it seems. There is a one-day track to this volcano. You climb it for half a day, look into the orifice while wearing a respirator, wonder at its steam and lava and slide down on a sled.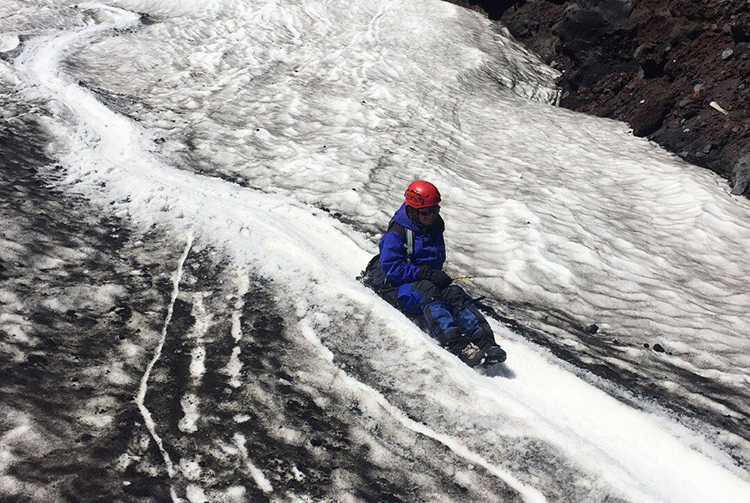 The best time to visit Patagonia is December. It is the very beginning of a touristic season. There are no any tracks to volcanoes as long as snow has not melted yet, so all Patagonia is very slippery, snowy and dangerous. And there is no one besides shepherds, sheep, ostrich, guanaco, foxes, and pumas. Sometimes snow is falling in November. Climbing starts in December. One more reason is prices. By the minute, the price for a one night stay at a hostel turns from 5000 pesos to 7000 pesos. I was there when the price for a volcano trek raised from 70000 to 100000 pesos and then to 120000 pesos. And of course, the number of tourists increases every day, on Christmas and early in January especially, when summer holidays start for those who live in the South.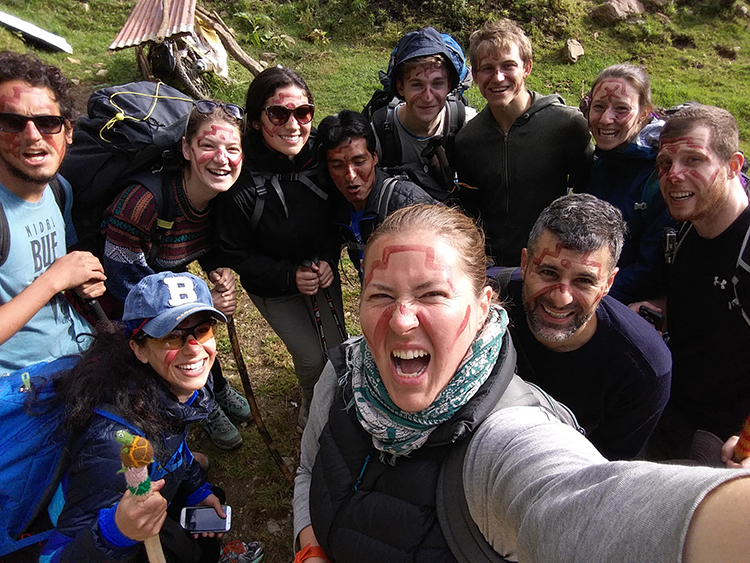 The journey to South America is an overwhelming adventure! But there was a moment I would change if I had known about it before it happened. If you are going to visit Chile (Patagonia in particular), I recommend you these tips:
Take a tent with you, there are camping places everywhere. Setting up a camp at the bottom of Fitzroy is my new goal.

Stock up on warm clothes. I didn't have enough sweatshirts, hats, gloves.

Buy some good and practical trekking shoes.

There is no central heating in Chile. Winter is very dry and cold there despite the southern hemisphere. The temperature can fall below freezing at night. Pajamas saved me then.

Always use the sun-block cream. When I forgot doing this, my skin started peeling the next day. Ozone hole above the southern hemisphere is really a thing. And your skin can burn even during winter months.
Journey around Chile is a great pleasure. People are very welcoming everywhere, towns and villages are very small. Everybody knows each other and a foreigner arrival is never a surprise. When you tell where you are from, and it becomes clear that you are not a gringo/a (it's an offenсe in LA), the attitude changes from tension to hospitality. I also recommend learning the language. You need just a bit of Spanish to understand where to go, how much do things cost and you can maintain a conversation.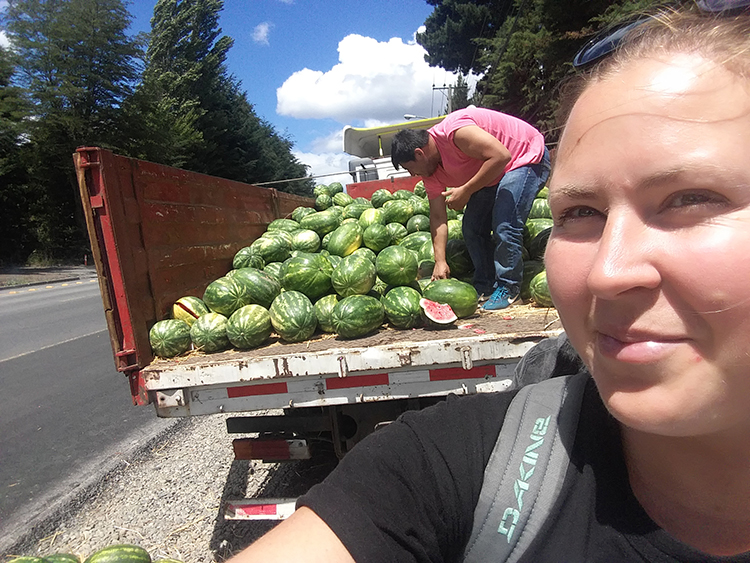 Chileans talk about their own life, about their food and last rumors with a certain pleasure. But it not easy to understand them even for their Spanish- speaking neighbors from Argentina, Peru, and Uruguay. Chilean Spanish is no longer original Castellano.
People in Chile speak singsong, slur word endings and mangle the pronunciation of SH and CH. The SH-sound is like Russian G somewhere in the countryside. Locals like CH-sound more so my name sounded like "Macha" instead of "Masha". And "Macha" would never think I guess that she will motor down the Titicaca lake being run out of gasoline later and that she will go to Machu-Picchu walking the Incas way. How could I think about it when I was 10 years old watching Nicolay Drozdov on TV talking about Uros floating islands?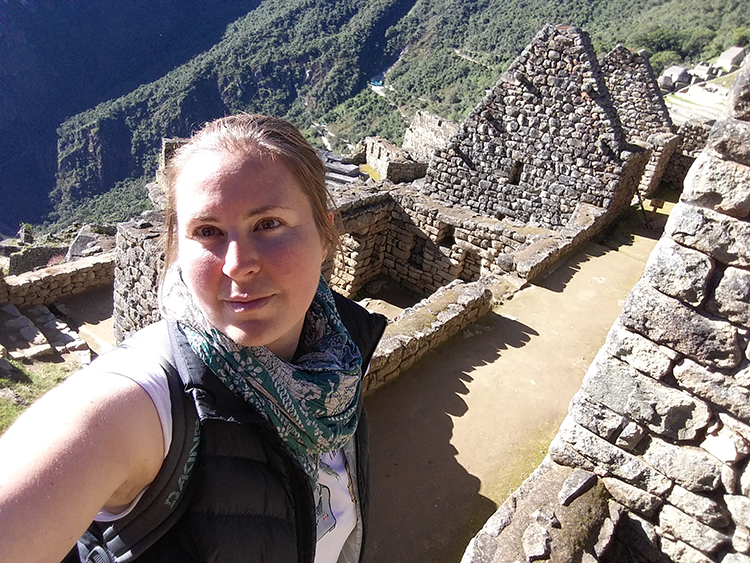 In conclusion, I want to say that if you intend to do something you really want – just do it! Just be the main hero of your own Discovery show or a host on "National Geographic" channel. And if you are in need of a magic kick in the butt – I recommend you to find a volunteer program located in a part of our planet what you have been dreaming of for a very long time.
Sometimes moderators of these programs can offer you to cover ticket/accommodation/food expenses. Our EODP program fixed all volunteers up with delivery around the country to final spot, the Spanish language course, free visa, pocket money (about 400 USD), Chilean host family to live with. A visa lets you get a Chilean ID that temporarily makes you a local. You can buy all the tickets to museums and parks for a usual price that works only for Chileans. To compare, a ticket to Torres del Paine cost me 6000 pesos instead of 21000 pesos for foreigners. Having ID gives you an opportunity to get your own local bank card and buy tickets online.
Goodsurfing is a great place to find a program you'll like. Here is a perfect website for it http://goodsurfing.org/.
It is updated daily. I am planning to tell about some different countries I have already been to the last time, so see you soon. Here are some wonderful countries I am going to visit – warm and peaceful Uruguay, hot and tasty Paraguay, furious Bolivia and the first free country in the continent, mysterious and marvelous Peru, sultry and friendly Argentina.
Only registered users can write comments
Comments (0)