Recently, from May 31 to June 2, the Big Summer Festival of Volunteers took place in Moscow! This event was the start of the festival season in Russian capital. 10 000 the most active volunteers all over the country gathered to share their experience about implementation of successful initiatives.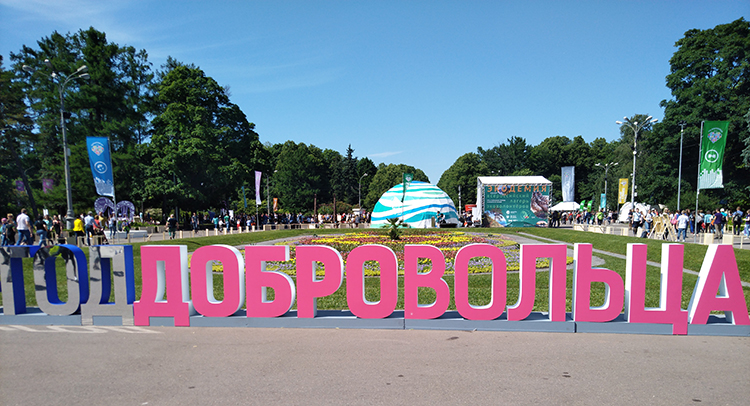 And of course Goodsurfing team couldn't pass up such large-scale event and organized an individual platform because we definitely have something to share. And now we want to tell about the most bright moments of our meeting with volunteers in order to be sure that nobody missed interesting stories and helpful advice of our experienced Goodsurfers. Let's go!
Talk "Goodsurfing: learning the world as volunteer". Speakers of the platform:
Ilya Popov - founder of Goodsurfing;

Olga Himchenko - specialist of the Executive Directorate of the Russian Geographical Society;

Anastasia Skripnichenko - expert in nature reserved volunteering;

Karine Dzhondzhoyan - expert in foreign volunteering.
Ilya as a founder of the project acted at the same time as a speaker and as a moderator of the platform. He told volunteers anout Goodsurfing, which goals this project has and how it can be used. So many people want start travelling, but they are afraid, they don't know how and where, and moreover, their budget usually is limited. And here the unique project Goodsurfing comes to help - with its bunch of different programs and internships from educational to entertaining ones, as across Russia from Kaliningrad to Vladivostok and abroad. Note that today the project cooperates with 36 countries! The main mission of Ilya's speech was to make it clear for participants of Festival that Goodsurfing is traveling with meaning! It is huge baggage of information on interesting projects, volunteering and expedition all over the world.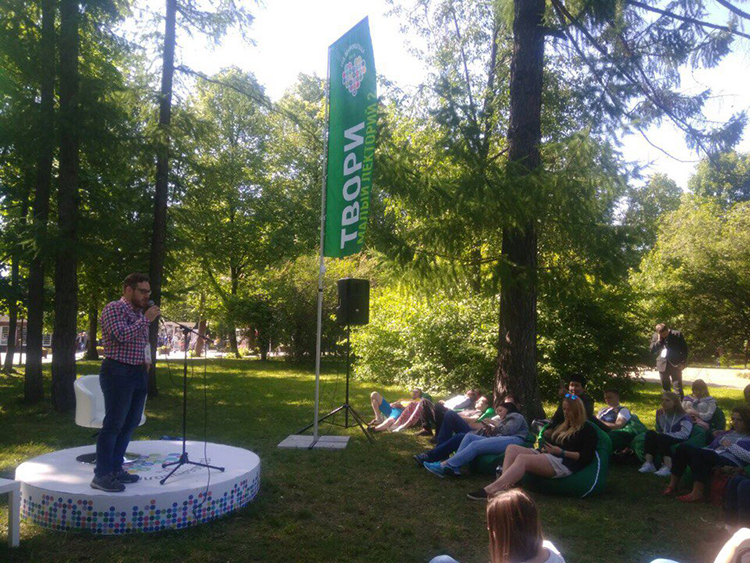 Olga Himchenko shared opportunities to travel with Russian Geographical Society (RGS) and also told about her own expedition experience because she is a volunteer for a long time and certainly knows this business! Her story has started from archeological expedition in Ksizovo (Zadonsky district of the Lipetsk region) in 2005 and since then volunteering trips make up about 90% of all her travels. There also were volunteering camps in different Europe countries, expeditions in specially protected natural territories (Manpupuner plateau, Pechora-Ilychsky nature reserve, Kenozersky National Park, Ergaki), India, South Korea and Maldives. Just imagine how many opportunities volunteering gives you! For now Olga works in Executive Directorate of the RGS and manages youth projects: expeditions, volunteering camps, profile tours of RGS in children's camps and much more. Also our guest gladly told to volunteers about summer expeditions which were announced on the Goodsurfing website.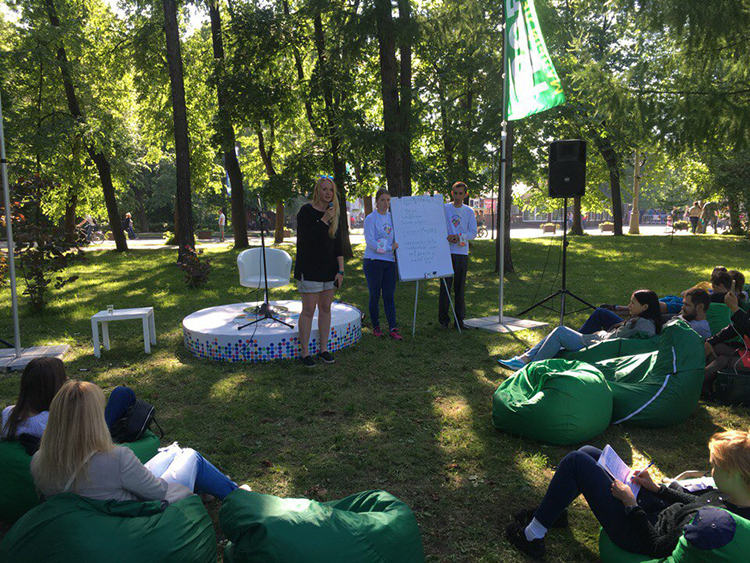 The next speaker is a real expert in nature reserved volunteering, Anastasia Skripnichenko. Berezinskiy and Astrakhanskiy biosphere nature reserves, Muravyov Park of Sustainable Development and also Ladoga Ornithological Station – Anastasia knows all these places firsthand. And by the way almost immediately after the festival Anastasia went on a trip again and now she is volunteering in Muravyev park which is located in Amur region. Also she gladly told about benefits of such volunteering which includes: opportunity to return to your roots, to live alone with nature and with yourself, to get some new knowledge and listen to interesting stories, to look at the way of the protected life and join it, and finally to get acquainted with outstanding personalities of our national science, to find useful connections and new friends all over the world and perhaps even to find a hobby like our expert did. Moreover, nature reserved volunteering promotes your personal qualities - sociability, determination and independence, first of all. In the end Anastasia gave everyone the advice to be brave and write directly to any nature reserve or national park which you're interested in (if you decide to travel by yourself) and also to learn the information and reviews about the place very carefully. The most important is not to be afraid to live interestingly and discover new horizons for yourself!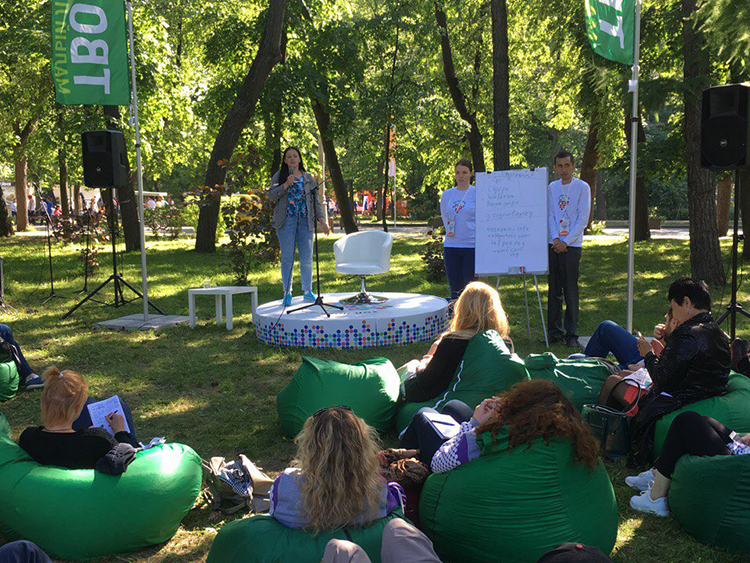 Karine Dzhondzhoyan is an expert in foreign volunteering, she shared with everyone her own 'travel with meaning' experience and told about huge variety of opportunities to learn other culture and to make friends all over the world. International projects break all fears and stereotypes about foreign culture, it vanishes interpersonal barrier and any prejudgment. Also this is an excellent way to improve foreign language. Carine participated projects in Island, German and France and she can say with confidence that the best option to get acquainted with the way of life of foreigners is to volunteering together. Because this is total immersion in the culture and life of the nation. As well as previous speakers Carine gave us some important advices for every traveler:
If you've seen an interesting project and you are burn with desire to go there - don't delay for tomorrow, but right now fill out the application and register, cause all interesting projects are closed very quickly. For example, our guest was so keen to go to Iceland as a volunteer that she filled out the form and prepared all necessary documents for one day!

Don't be afraid and be open to the world cause it is just gorgeous in its diversity;

It is better

to know at least the language base (rest of it you will improve with native speakers of the country), or it will be uncomfortable as for you as for your project collegues;

Be sure to read the reviews and double-check the information.
Beside of all, speaker of the platform willingly shared two useful projects which can help you to join in foreign volunteering - it is World4U и Workaway.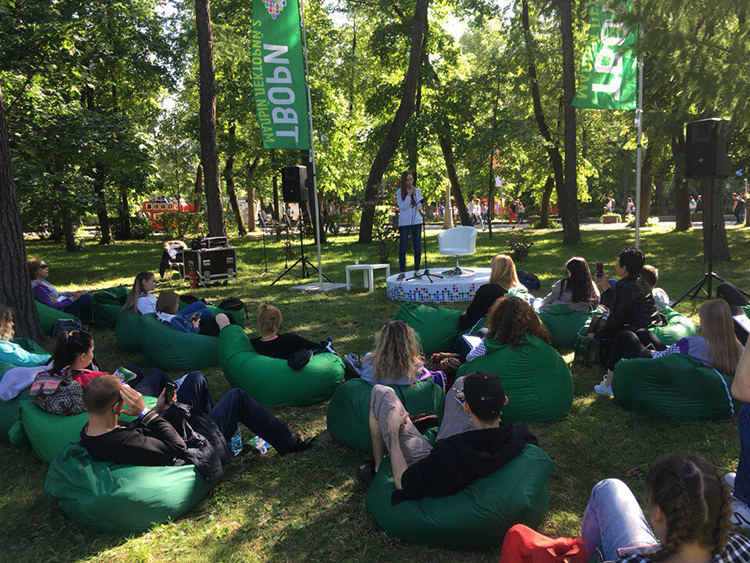 Well, we told you the most basic things of the speeches of our wonderful Goodsurfers, shared some useful tips, sources and projects. We hope that you will certainly take a note of something interesting. And we want to remind that Volunteering is not just free job, but really great opportunities! Work as volunteer allows you to see the world with a minimum of money, to meet interesting people, to learn foreign languages and the most important - to get rid of the borders that we create for ourselves. The world is open - let's travel, friends!

Author of the text - Regina Lukyanova
Edited by - Inga Nazarova
Translated by - Anastasia Kravchenko
Date of event - June 2, 2018
Date of publication - July 3, 2018
Only registered users can write comments
Comments (1)
Ваша деятельность меня определённо радует. Так как с одной стороны она даёт возможность путешествовать. Но, всегда есть "но". Например я бы с радостью принял участие в переворачивании черепах где-нибудь на берегу индийского океана, но оказывается, что чтобы туда добраться нужно купить билет за 500-700$, что является неприемлемой суммой. Было бы хорошо, чтобы организации принимающие волонтёров, как-то учитывали данный фактор и как-то компенсировали данные затраты, либо давали какую-то возможность заработать эти деньги на месте. Тогда бы количество волонтёров возросло во много раз!