Hitchhiking is a fun thing to do, but only when you realize that it's safe. And it's not always safe, so you need to follow some rules that are useful on the road. This and the hitchhiking as a whole are explained below.
Who exactly are hitchhikers? They are travelers who move along the road via the passing transport: cars - hitchhiking, airplanes - hitchhiking a plane, ships - hitchhiking a boat, trains - train hitching.
Hitchhiking in itself is not a free ride. It involves mutual exchange, where you comm
unicate with drivers, in return they give you a lift. Drivers take hitchhikers for various reasons: someone is interested, someone is bored, for others it's a way not to fall asleep on the way.
The number of people in the hitchhiking varies from one to three, it will be more difficult with a larger group. The fastest ways are to go alone, two girls or a mixed pair. But going alone is no better for a girl. The most important peculiarity of the female hitchhiking is that it is not safe. It's a bit difficult when two guys go together, they have to spend more time waiting. The option with three people is possible in places where there are not so many cars.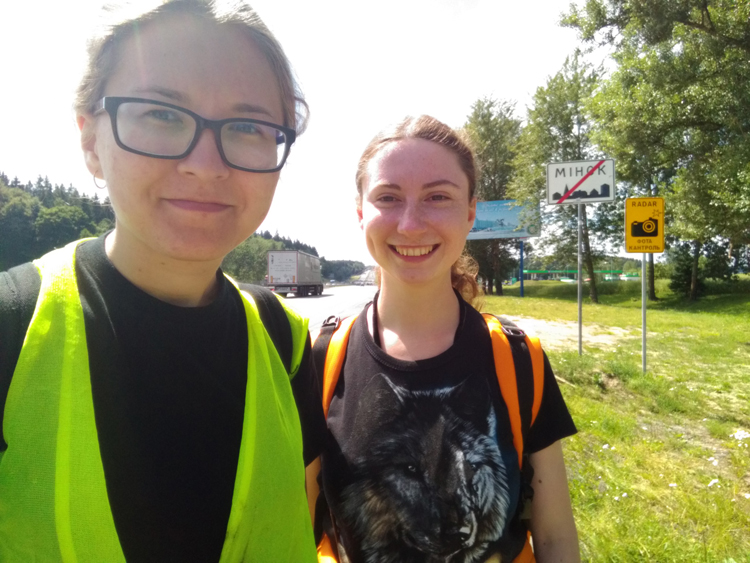 Hitchhikers should wear bright clothes, orange and red shades are best. Girls are advised to wear loose clothing, or one with a tourist and sports style.
You need to choose place for starting your hitchhike on the basis of whether the car can stop at this place. Do not vote on the roadway, at best you will be driven around, at worst - knocked down. The best place is a roadside, in the absence of a roadside the car can create an emergency situation, so if you climbed down in a not very suitable place for sticking your hand out, it would not be superfluous to go a little further to a more suitable place. If there are no roadsides and they are not expected, you can stick your hand out before and after the bus stop. You can also do it after a petrol station or the traffic police station. In general, if you feel that the cars will be able to stop at the place, which you have chosen, safely stick your hand out.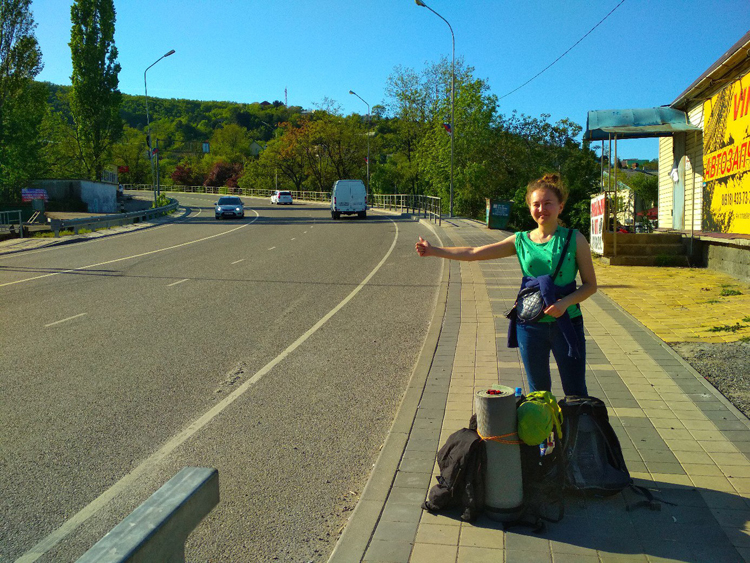 What does sticking your hand out mean? There is a world-famous sign, a long arm, an open palm, or a hand clenched into a fist, the thumb lifted up. But be careful, in some places this gesture means something completely different. So in Altai this gesture means "I will pay you well". In Sweden it is customary to point the direction of the movement with your thumb, and if you lift it up, you can run into unpleasant adventures. Therefore, before going on a trip, it would be nice to read about the features of the area.
Also while sticking your hand out visual contact with the driver is important. Usually if there are no free seats, he points on the throat, or crosses arms. Before turning in a few meters or kilometers, the driver usually shows a hand to the right or left and shrugs his shoulders, as if to say "I'm sorry, but I turn off soon". According to the way they react, you can understand whether you are seen in the position or not.
When two people stick their hands out: one catches the car, another stands nearby. There are times when you stand, sticking your hand out, and do not see if the car has stopped, only when they sound or shout to you, you realize that the car has stopped and waits. In such cases the fellow traveler will be useful.
Sticking your hand out at night is a little different from the daytime. It is necessary to put on a reflective waistcoat, or reflective line marks on the hands, or better both of them. In addition, shine a flashlight on the fist or into the space in front of you.
If you met another hitchhiker on the way, it would be great to show interest to him, because you never know how interesting and useful a person can be. And so there is a rule in hitchhiking, if you are the first to come to the position, stay, anyone who came after you goes to a distance. But also if you travel alone and the other person goes the same direction, you can agree and go together, everything is decided through communication.
Let's talk a little about the dangers of hitchhiking. There are three types of hazards: drivers, people during sticking your hand out and animals.
People who can harm you during your journey are local lowlife. Most importantly, do not engage to a fight with them, instead try to solve the issue peacefully, through communication. You can tell them what a cool traveler you are or some interesting stories, because they are only humans after all, and you can always find an approach to a person. It's different with animals, here it would be nice to have deterrent devices with you. But animals do not attack without reason, people do.
There are two categories of dangers from the drivers: sexual harassment and robbery. The latter is unlikely, but being alert is still worth it.
If you do not like people in the car, leave this car, you can catch another. If you are already in the car, try to negotiate peacefully with the person. If the negotiations did not lead to a result, then take active steps - hit the driver, shout, draw the attention of other people (other drivers, traffic police), you can open the door of the car, the driver instinctively brakes, and within these few seconds jump out of the car, but it's very risky.
In general, if intuition tells you that you do not need to go with this driver, if you feel uncomfortable or threatened, ask the driver to stop, get out and politely say goodbye.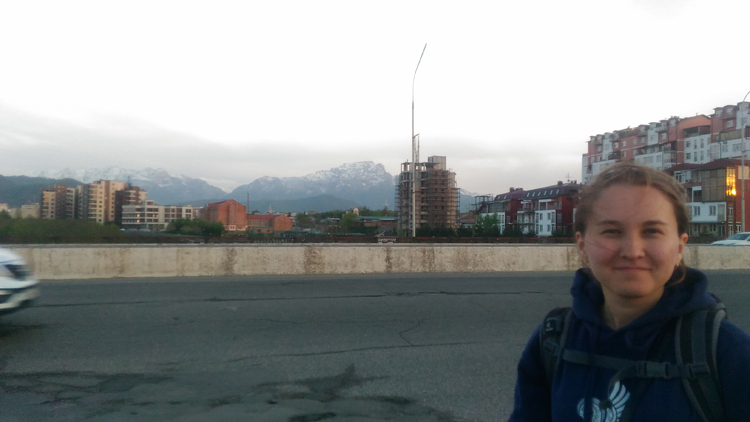 In general, hitchhiking is interesting, and if you want to try it, but are afraid of, stop it! It's All in Your Hands!
Author of the text - Kristina Iakovleva
Translated by - Drejk Barkov
Date of publication - 2.07.2018
Only registered users can write comments
Comments (0)