My journey began when I put 70-liter backpack on my shoulders and went to the train, which 76 hours later took me from Kazan to Severobaikalsk to the Great Baikal Trail project "Northern Trails". This was my first experience of participating in a volunteer project, and I expected different things from it: meeting new people, communication, gathering around the campfire, feelings of fatigue and satisfaction from work, hoped that I would make new friends or even meet my love. At the same time, I had several concerns: I was worried if I could live in the wild, whether I had enough strength for hard physical work, or I would get sick by spending the night on the ground. But now, when my trip has already taken place, I can say that my pleasant expectations were justified, and the concerns vanished.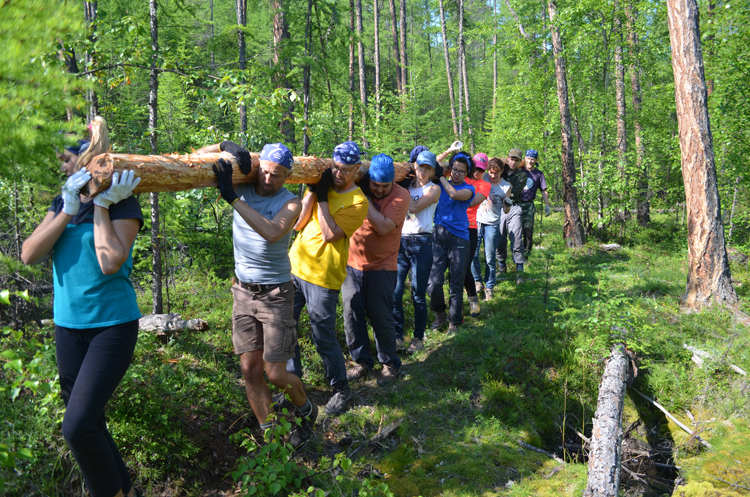 Our site of the Great Baikal Trail with a length of 20 kilometers was located on the territory of Buryatia between the Slyudyanskiye Lakes and the Baikalskoye village. This path was laid 15 years ago, and some of its sites required restoration, which we made. We moved along the path and set up camp three times on the way, and already out of the camp we made side trips for work. On the first section of the trail we had to dismantle the old steps and install new ones. The second site required the erection of several gates, and on the third we built a serpentine.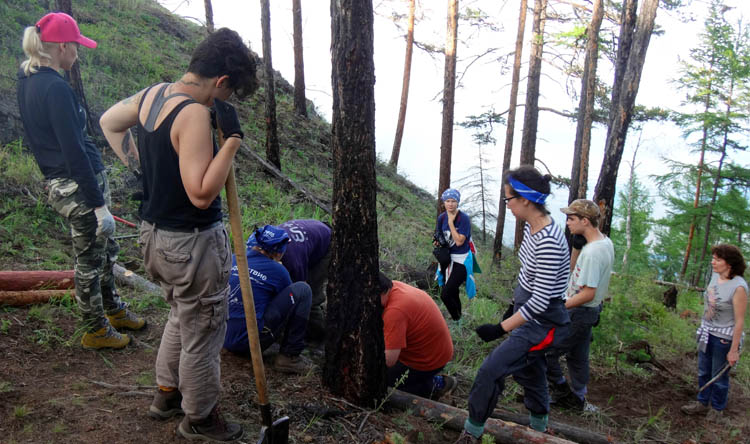 During the work on the trail I discovered a hidden talent - it turns out that I'm good at barking logs with a shovel. Previously I did not even suspect that the log should be barked, and did not know why I should do it at all. And I certainly never knew that the logs were so heavy!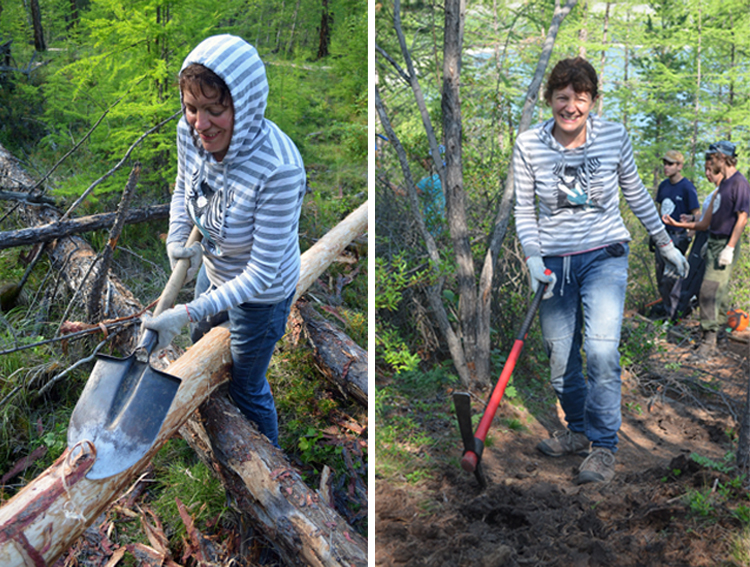 Also our duties included garbage collection. This is really hard work, and I respect the volunteers who help our planet become cleaner around the world, eliminating the consequences of man's irresponsible attitude to nature. During our project we collected 3,200 liters of garbage, which I am personally very proud of. Once during the collection of garbage I found a pebble in the shape of a heart. They say that even stones can not be taken from Baikal, but I decided that this is an exception, because my heart will still remain there!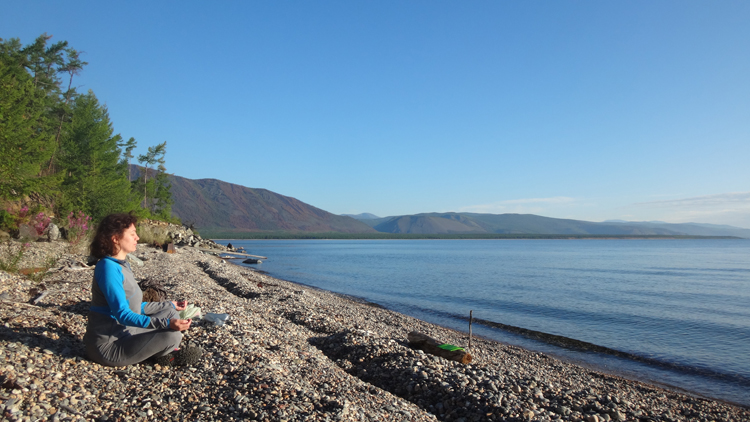 We were blessed with the weather and every day we swam in Baikal. It's an unforgettable experience: at first it's pretty cold, but then you dive, swim and feel - it's hot. Sometimes I could stand on my head before swimming.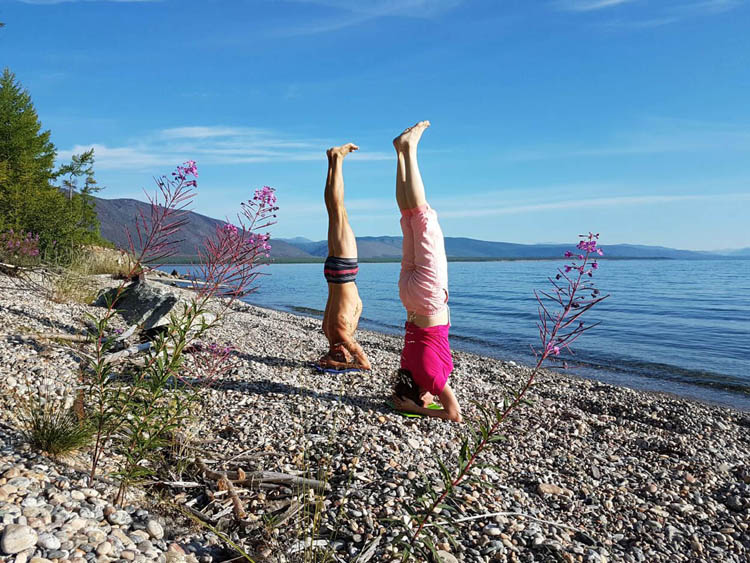 The project involved 15 people from several countries and cities of Russia at the age from 17 to 55. And there was a guitar that came from England in our party as well as two ukulele. In the evenings we played games, every day there was something new. But the favorite game was "Secret Friend": at the very beginning each of us received a piece of paper with the name of one of the participants of the project, for which over the entire period of time it was necessary to make surprises so that he did not guess. This game won everyone's heart! Almost every day we received small gifts: a bouquet of flowers or a handful of berries, applique from twigs or a handmade card. I made beads of cones and berries for my ward, collected wildflowers, did various pleasant things.
Some of us decided to spend last night right on the beach. We lay in our sleeping bags and looked at the night sky. The Milky Way was visible, sometimes the sky was cut by falling stars. Then a moon came out, muffling the light of the stars, it became cool, there was a slight splash of water. I periodically woke up not to miss the dawn, but, unfortunately, the sky was covered with clouds, and the sun rose behind them.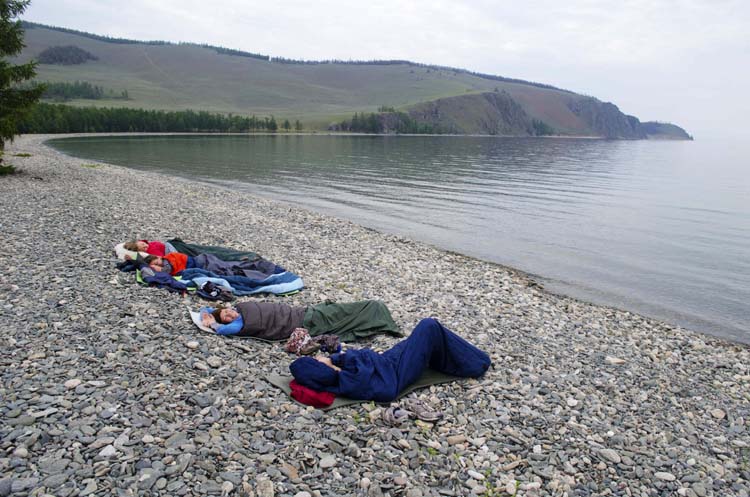 I really want to come back there again! My heart will always remember people, whom I have met there, our conversations and walks, hiking songs by the fire and, of course, the amazing nature of Baikal!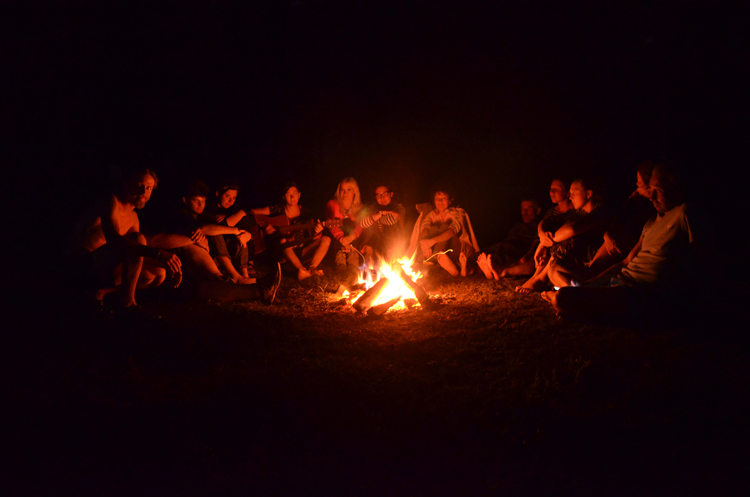 If You want to learn more about the Great Baikal Trail project, please visit: https://greatbaikaltrail.org
Author of the text – Irina Vizgina
Edited by – Alevtina Shurupova
Translated by - Drejk Barkov
Date of event – August 1-15, 2017
Date of publication – 29.06.18
Only registered users can write comments
Comments (0)